Hello, awesome people! I know many of you are really curious to check this list of  Best Anti Acne Face Wash available in India. Well, to be honest, acne is a very common problem among youth. There are many factors which give birth to those tiny-not so good pimplesL. The reasons can be hereditary, consumption of junk food, use of unhygienic towels, napkins, use of chemical loaded cosmetics and last but really prominent- hormonal changes. Hormonal changes cause a lot of acne on the skin. This mainly occurs at the age of 12 to 19years.  Earlier, the hormonal changes didn't cause so many spots and acne problems on skin. It has mainly increased due to pollution and unhealthy food.
So, to protect your skin from getting affected due to acne, you need to have a suitable face wash. The acne prone skin is naturally more sensitive. In summer, this problem gets more intense as it gets sweaty and oily. That's why we should always choose our skin care products carefully. I too have acne prone skin and today I am glad to share such useful information with y'all 😀
Best Face Wash In India For Oily Acne Prone Skin With Pimples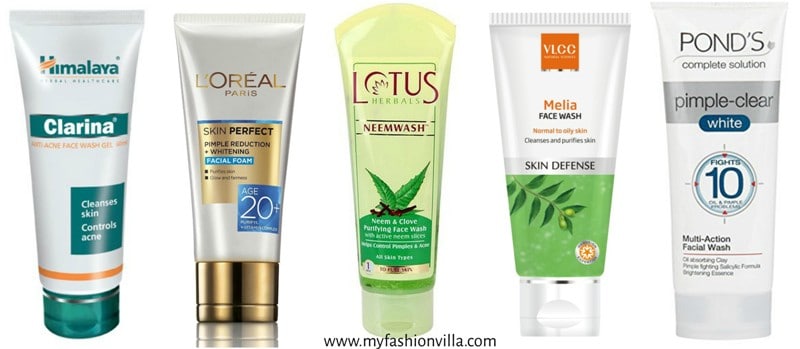 Neutrogena Oil Free Acne Face Wash

Neutrogena is a 1 brand when it comes to skin care. It provides us the best range of products for various skin types. The Neutrogena oil free acne face wash is in orange color with transparency. This contains salicylic acid which exfoliates skin and reduces breakouts and blemishes. It is gentle on skin and doesn't over dry it. Its quantity is 177ml.
Himalaya Neem Face Wash                                                          

This is a soap free cleanser for sensitive skin. Himalaya neem face wash has goodness of neem along with turmeric and I have heard amazing reviews from people who have used it. These both help your skin pores to open up and prevent them clogging back. Neem, a natural ingredient which fights bacteria and fungal causing germs while turmeric tightens and brightens your skin.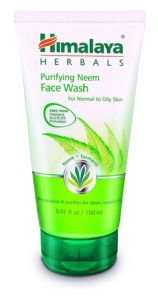 Himalaya Clarina Anti–Acne Face Wash Gel
Himalaya is an Indian brand known for its best natural skin care and cosmetic products.This anti-acne wash gel has antiseborrheic, antioxidants, keratolytic, and antibacterial activities. It contains natural ingredients and salicylic acid which help in reducing inflammation and breakouts.This face wash gel is of 50 ml and very much affordable.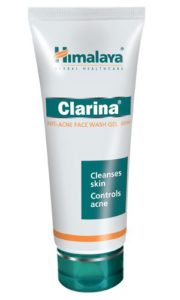 Garnier Pure Active Neem and Tulsi Foaming Face Wash
Garnier has so far launched its "neem" containing face washes especially for treating acnes. However, this one is most effective one among them. You can also use "Garnier Pure Active Neem Face Wash". It leaves the skin clear and oil free. This product contains key pimple removing natural ingredients: neem and tulsi. Both of them are excellent in fighting against pimple-causing.
We have tried and reviewed this face wash on MyFashionVilla, read it here: Garnier Pure Active Neem + Tulsi Face Wash Review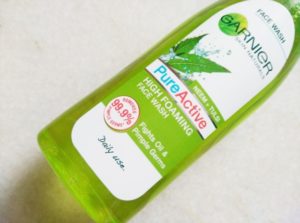 Lotus Herbal Neem and Clove Purifying Face Wash
Lotus is the very well known brand for its beauty-specially 'anti-aging' products range. This face wash has neem and clove extracts as a pimple fighting agents. Clove is an effective agent in removing the bacteria which cause pimples and breakouts. This face wash is mainly formulated for oily skin and thus doesn't over dry the skin.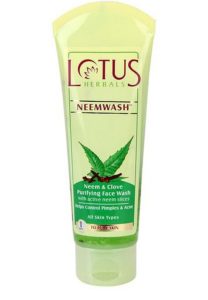 Cetaphil Daily Face Cleanser
This has been recommended by the dermatologists. The Cetaphil Face Cleanser removes all dirt and oil from the skin. It also opens up the pores and prevents them from clogging back. The cleanser leaves a long lasting fresh as well as clear look. Has a bit of oily texture so don't get shocked if it doesn't produce high foam.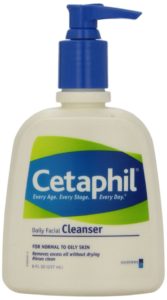 Ponds Pimple Clear White Multi-Action Face Wash
This face wash fights 10 problems of the skin. It removes dirt, oil and reduces redness. It fights the bacteria and tightens the pores by exfoliating the skin, additionally, prevents breakouts and gently cleans the skin. Leaves a brighter, soft and fresh looking skin. This face wash reduces inflammation of the skin too.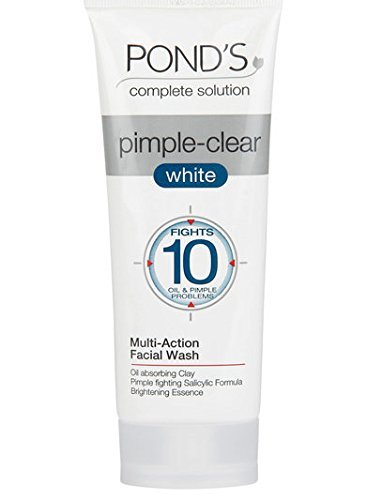 Clean & Clear Foaming Face Wash
The most loved face wash by teenagers. This is really effective in clearing out the excess oil from the skin and giving a fruity freshness. It clears up the pores and prevents the skin from having any other breakouts. While many have liked "Clean & Clear Continuous Control Acne Cleanser", however, few found it too strong and harsh. The foaming face wash is mainly for oily skin.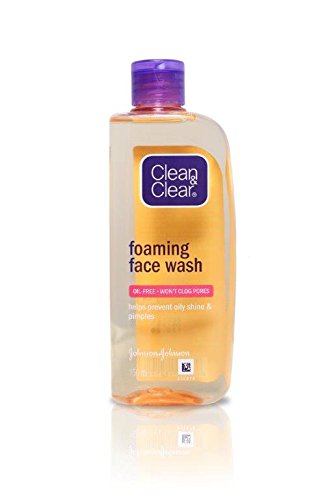 VLCC Melia Face Wash
This face wash is for oily skin type. It has many pimple fighting agents which reduce the sebum production. The face wash has melia extracts which are really good for our skin.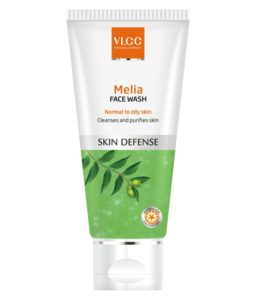 Lotus Herbal Tea Tree and Cinnamon Anti-Acne Oil Control face Wash
Tea Tree oil is the powerful agent that can cure your acne problems. In home remedies too, tea tree oil is taken as a pimple fighting substance. Plus, cinnamon kills the Acne causing bacteria. This is suitable for dry to the normal and sensitive skin. It removes all the excess oil from the skin.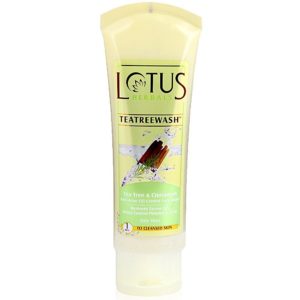 Aroma Neem & Tea Tree Face wash
With the two most effective natural ingredients, it promises us with great results. The neem and tea tree oil act as anti-bacterial and prevent the breakouts. Furthermore, with the goodness of neem, it gives a brighter look. It also controls the oil on the skin.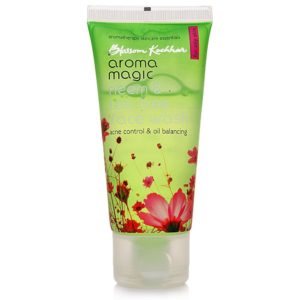 L'Oreal Paris Perfect Skin Pimple Reduction + Whitening    
L'Oreal has always been a superfine brand in skin treatment. Though this face wash says that it is meant for 20+ age, it can be definitely used by teenagers (17-18). It acts as whitening cream as well as a face wash and tries to reduce the blemishes and blackheads on the skin. After a single use for day, you probably wouldn't require a repetition. After a while, you would start noticing the reduction in spots, blackheads and there would be a sparkling glow on your face.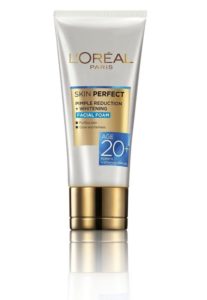 Tips to control and reduce Pimples
Say NO to junk food: Junk food contains lot of spices and oil which is actually not good for oily and acne prone skin. Yes, you can have it occasionally but should maintain a healthy diet to balance it.
Drink a lot of Water: Yes! Drinking a lot of water is key to glowing skin. Water is very essential for hydrating your skin. While at work, gym or home, try to keep a water bottle with you.
Hygiene: keep your napkins, hankies and towels always clean. Plus, make sure that your pillow and pillow covers are regularly changed or cleaned(same goes with blankets).
Avoid too much makeup: No matter how great quality makeup you use, it always contains chemicals. So, try avoiding makeup as far as possible.  And in order to save money, never use lower quality cosmetics or skin care products.
Know about antioxidants: Antioxidants are really good for our health as well as our skin. They naturally tighten the skin and clear out the bacteria present. It enhances the elasticity of the skin. The antioxidants like tomato, kidney beans, wild blue berries and dark chocolate should be present in your diet chart.
Use appropriate skin products: As your skin is acne prone, never pick up the products blindly which are for normal skin. Do go for sensitive or acne prone skin care products.
NOTE: wear an appropriate SPF daily for 100% protection from harmful UVA & UVB. Read about Best Sunscreens available in India here:
So, this was our list of Best Face Washes for Acne Prone Skin, do share your views about them. And yeah, always make sure to moisturize your skin after using a face wash. Always remember, only products will not do any magic unless and until you work on your lifestyle and make it better 🙂
Kindly consult a dermatologist before using any skin care product if you have an intense 'Acne problem' or allergy issues.
Hope y'all found this helpful 🙂
Stay fresh! Stay young!
Happy Summers!
HUGS!!!
Save
Save
Save
Save
Save
Save